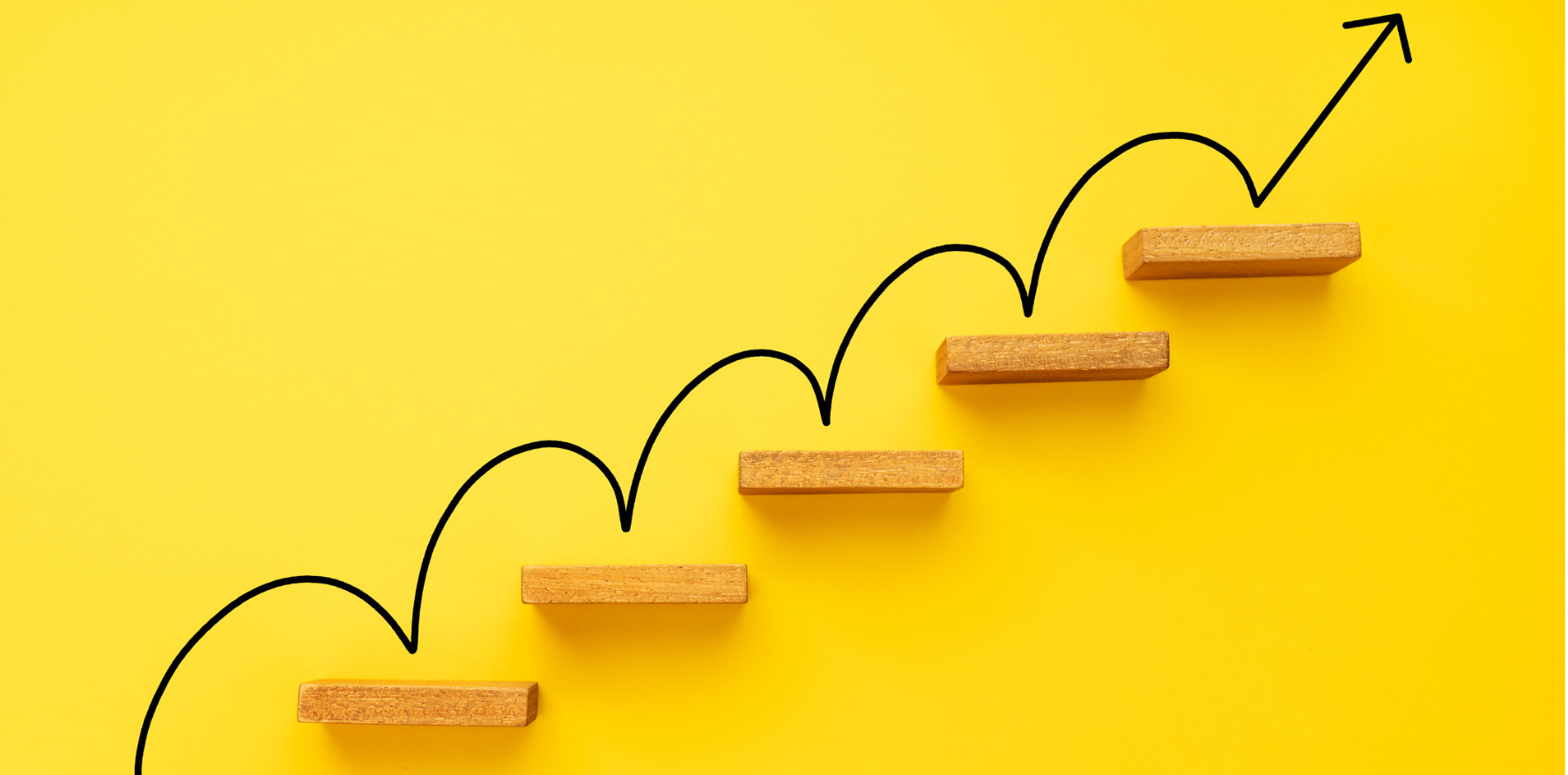 Cervical cancer diagnoses are predicted to jump 17% this year compared to a decade ago, with AIHW data tipping the figure will reach almost 1000 cases.
But leading cervical cancer experts say the figures may not be cause for alarm.
Pathology Awareness Australia warned the jump in diagnoses from 818 cases in 2013 to an expected 961 this year represented an "unsettling trend" demanding "immediate attention and action".
One particular concern was that the 30-44 age group accounted for a bigger proportion of diagnoses, from 38% of all diagnoses in 2013 to a predicted 47% in 2023.
"Cervical cancer is a disease of young women, and this is evident in the latest cervical cancer projections for this year," Adjunct Professor Annabelle Farnsworth AM, chief medical officer at Douglass Hanly Moir Pathology, told media.
Some of this increase could be explained by a drop in the proportion of younger, vaccinated individuals getting cervical cancer, with rates in the 15-29 age group decreasing from four per 100,000 in 2013 to 1.8 per 100,000 in 2019.
Meanwhile, a small uptick in rates is expected in the 30-44 year age group, rising from 12.9 cases per 100,000 in 2013 to an expected 16.0 cases per 100,000 in 2023.
But while the raw number of cases in Australia is predicted to increase, the expected overall rate of cervical cancer diagnoses appears to remain unchanged.
Professor Julia Brotherton, cancer prevention expert at the University of Melbourne, told Oncology Republic these case numbers were consistent with modelling done prior to the introduction of the HPV screening program. This modelling predicted a temporary rise in cervical cancer diagnoses due to prevalent disease being detected earlier – but without an increase in mortality.
"This is a good news story, as it means early-stage cancers that may have been missed by a Pap smear are being picked up. It means women are getting earlier treatment, and are more likely to have a good outcome," said Professor Brotherton.
She said the rise could be explained by the superior sensitivity of the HPV screening test and Australia's population growth.
Professor Brotherton also said the AIHW projections were an important call to engage with the screening program, particularly for sexually active women aged 25 to 40.
"These young women are normally in the prime of their lives – the last thing you want to do is be facing cancer. [But] the great thing about cervical screening is it can pick up infections before they ever have a chance of developing into cancer.
"Self-collection is a perfect opportunity for the younger population who have never screened or who may be afraid of the speculum – it might be the thing that gets them over the line [and engaged in the screening program," she told Oncology Republic.
Professor Farnsworth echoed the benefits of self-collection.
"When done properly under medical control, self-collection is as good as a regular Pap smear," she told Oncology Republic.
"People need to be assured it's a good option that's quicker and easier for both the woman and the practice."
Professor Farnsworth emphasised the importance of participation in the national cervical screening program in women who had previously received the HPV vaccination.
"Just because you've been vaccinated doesn't mean you can avoid regular screening," she noted.
"This is largely because the vaccine only covers some of the virus types that are associated with the development of cervical disease."
Professor Brotherton said the AIHW faced challenges waiting for individual jurisdictional registries to clean and process their data.
Currently, the AIHW report only contains real data to the end of 2019, with predictions made for diagnoses in 2020 and beyond. And delays from statewide cancer registries in providing data left the organisation to make educated guesses on recent years.
But as the nation inched closer to potentially eliminating cervical cancer as a public health problem, Professor Brotherton felt there was room for improvement in how data is collated.
"Unless we improve the timeliness of our data, we're going to be in a situation where we could have reached elimination, and we won't even know it because our cancer data lags. It's quite important we think about what infrastructure and resources we might need to improve the timeliness of our national cancer data," she told Oncology Republic.
Cervical screening test numbers have increased after more than five years of the new program, but wider uptake is still needed, particularly among First Nations people and those living in rural areas.
"There's a very high screening rate in the northern part of Sydney, but if you travel 40 minutes to the west [some areas] have the some of the lowest screening rates in Australia. It's very patchy," said Professor Farnsworth.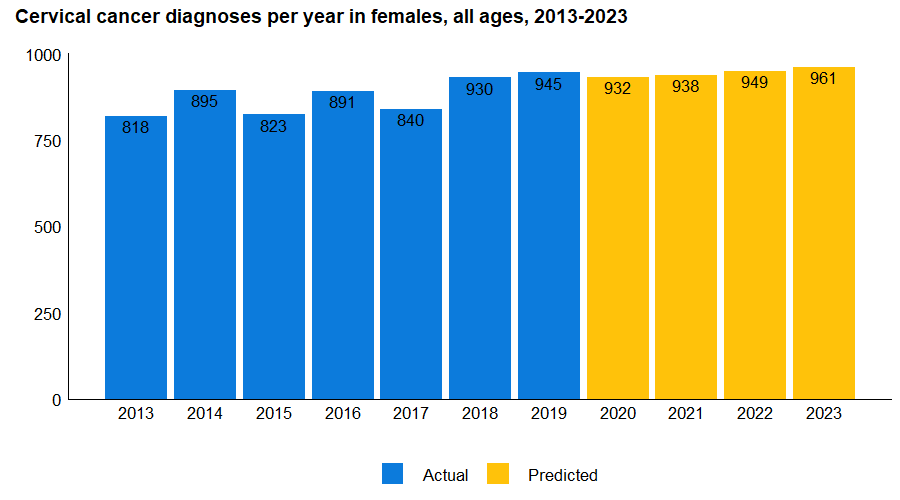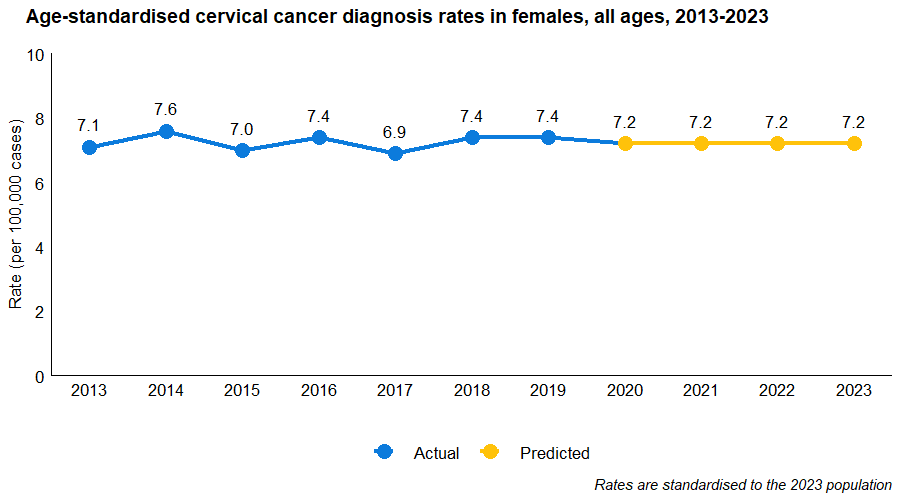 Data source: Cancer data in Australia – Cancer incidence by age visualisation